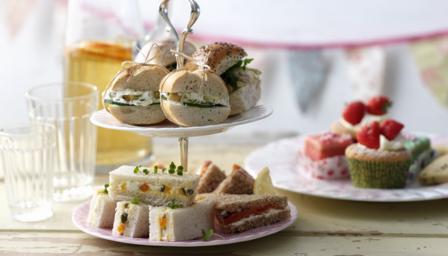 Tea Party Sandwiches – everybody loves them but in today's busy world, less and less people are taking the time to create these special little treats.
There are some tricks to making the classic tea party sandwich, particularly the rolled sandwiches. One of these tricks is to discover a baker that will offer you the jumbo loaves of bread and slice them for you longways!
If you're able to find a baker to do this, your job just got a whole lot easier. You can do both brown and white bread sandwiches with an assortment of fillings to produce a dazzling display in your sandwich plate.
Once you have found your prized baker, the rest is quite easy! You have to trim the crust off the bread slices. This is key. In the long side start your rolling.
As soon as you are done, assuming you are doing this well in advance of your tea party, you want to store them while keeping them clean and cut them just before you serve.
So, wrap them up in saran wrap and place them in the fridge… just before you're ready to serve them, take the rolls out of the fridge and slice them into 1-1.5″ pieces and place on your tray.
It really doesn't take long, and everyone will enjoy the beautiful sandwiches that you present on your own tea party menu in your next gathering.